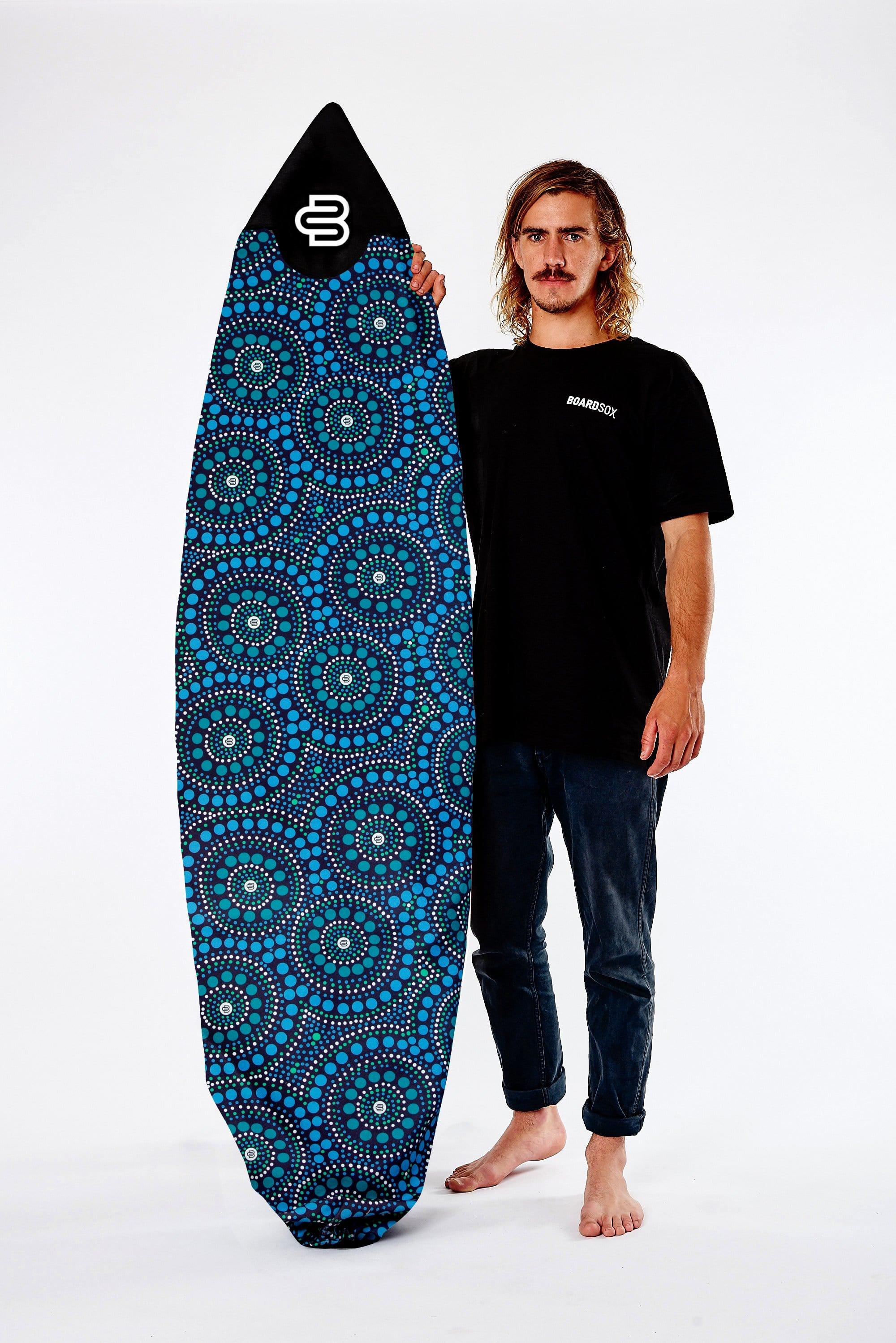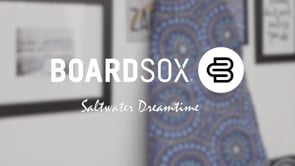 Bombora Boardsox® Short Surfboard Cover
Sale price

$128.00
Regular price
(/)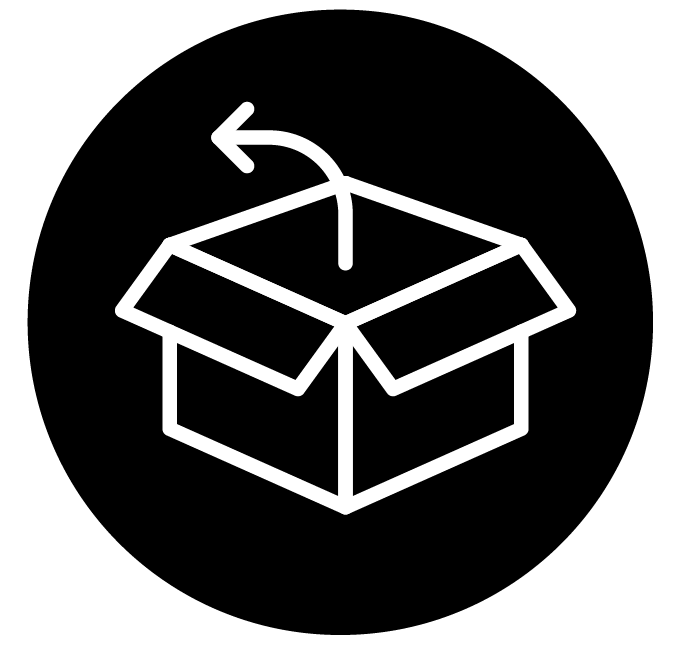 Easy Returns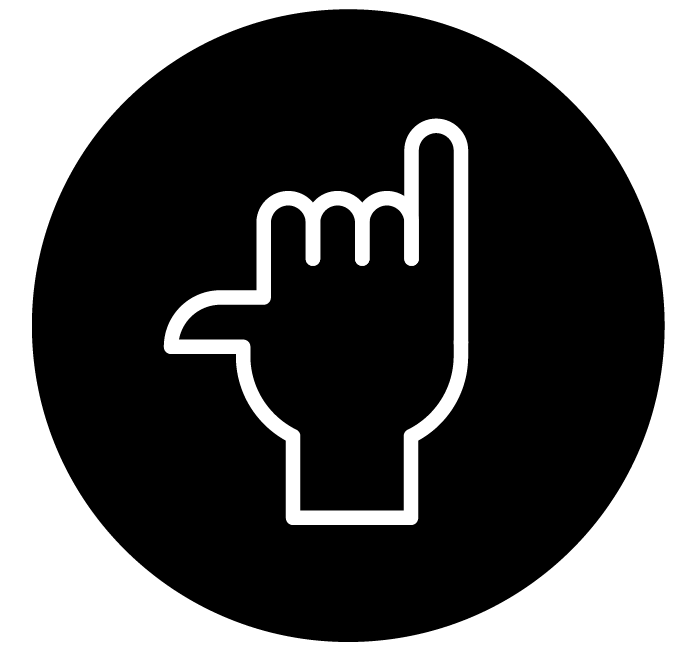 Lifetime Warranty
Designed by Surfers for Surfers
Bombora is an Indigenous Australian term for an area of large sea waves breaking over a shallow area such as a submerged rock shelf, reef, or sandbank that is located some distance from the shoreline and beach surf break. In slang, it is also called a bommie. This is our Bommie!

10% of all profits from this Original Indigenous Boardsox surf bag is donated to the JURAKI Indigenous Surfing organization supporting indigenous surfers from across Australia  

Better products for a better surf! - The Boardsox Guarantee 

The rugged 16oz canvas Surf Hardware Boardsox offers durability and function - with everyday protection for your Surfboard from Dings, Dirt and Sun from light to heavy use.


Protect your board from damaging UV and dings and scratches
Ultralight and super tough - 16oz Canvas - does not snag or rip
Wax and Water Resistant, keep your car clean from wax, sand, and saltwater
Reinforced 5mm padded nose for extra protection
100% Satisfaction Guarantee. 
Boardsox Canvas Surfboard covers are made in Australia 
One Planet, One Ocean, One Chance

Boardsox is the ultimate solution for protecting your surfboard. Boardsox offers a unique combination of style, and durability with 16 oz recycled RpET canvas which also allows for a snug fit that protects your board from scratches, dings, and sun damage. 

Boardsox is committed to making a positive impact on the environment with everything we do and stand for without sacrificing quality or durability. 
The Boardsox Guarantee 

Better products for a better surf! -

The rugged 16oz canvas Surf Hardware Boardsox offers durability and function - with everyday protection for your Surfboard from Dings, Dirt and Sun from light to heavy use.


Made from RPET  - recycled plastic bottles.
Protect your board from damaging UV and dings and scratches
Ultralight and super tough - 16oz Canvas - does not snag or rip
Wax and Water Resistant, keep your car clean from wax, sand, and saltwater
Reinforced 5mm padded nose for extra protection
100% Satisfaction Guarantee. 
Boardsox Canvas Surfboard covers are made in Australia 
Sizing Help

If you have any sizing questions please view our size >> Size Guide - Click here
or, simply ask us a question in the chat functionality on the bottom right-hand side. We will get back to you asap!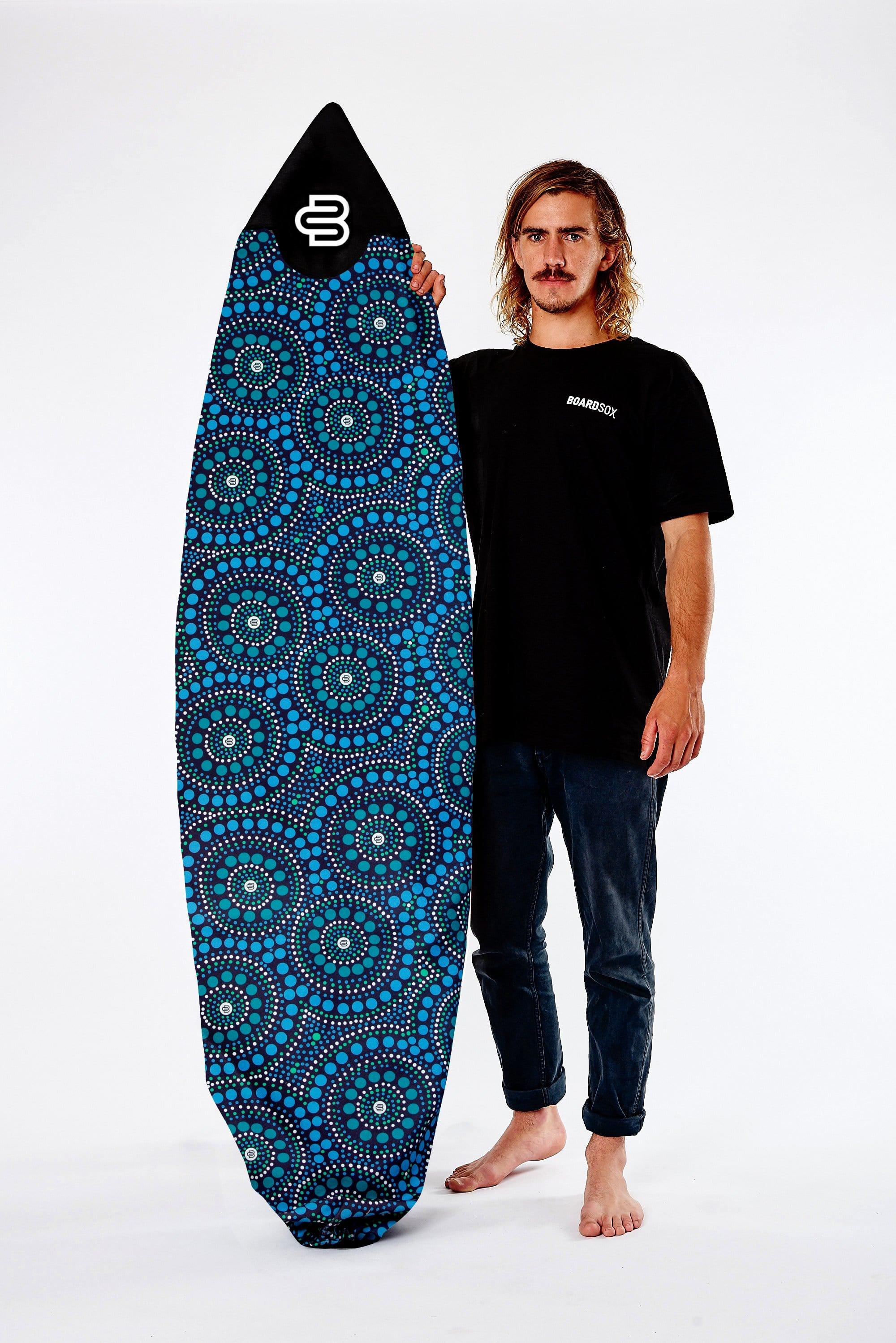 Bombora Boardsox® Short Surfboard Cover
Sale price

$128.00
Regular price
Choose options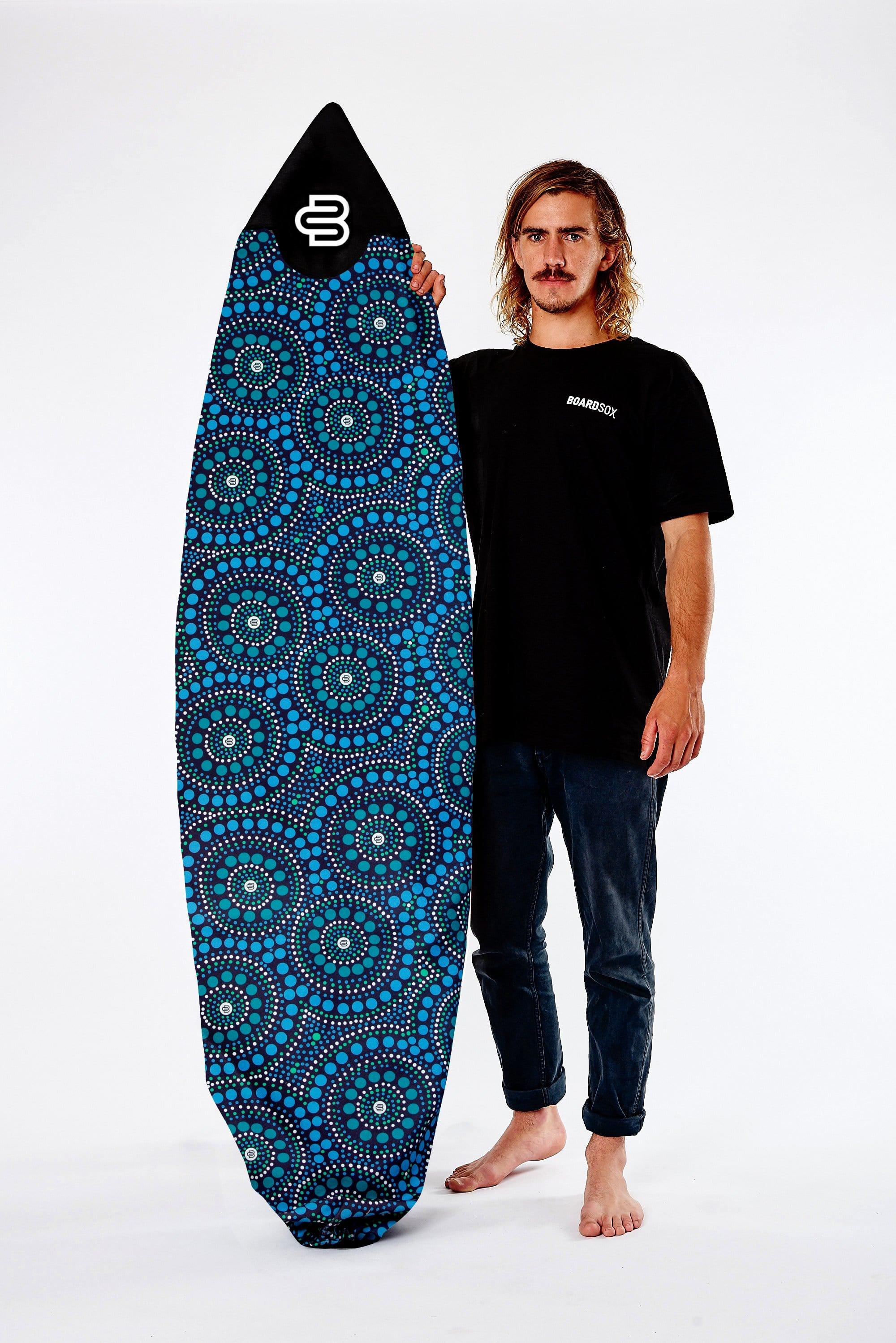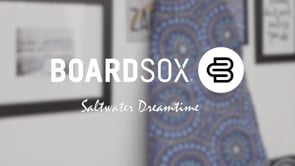 WHY CANVAS IS THE SUPERIOR AND SUSTAINABLE CHOICE FOR PROTECTING YOUR SURFBOARD?
DURABILITY
Canvas is known for its robustness and ability to withstand wear and tear. This makes it ideal for protecting surfboards, which are often subject to rough handling during transport and storage.
Water + Wax Resistant
Canvas has natural water-resistant qualities, making it suitable for use in marine environments. It helps in keeping the surfboard dry and preventing water damage.
Breathability
Unlike synthetic materials, canvas allows for air circulation. This is important for preventing moisture buildup inside the sock, which can lead to mold or mildew growth on the surfboard.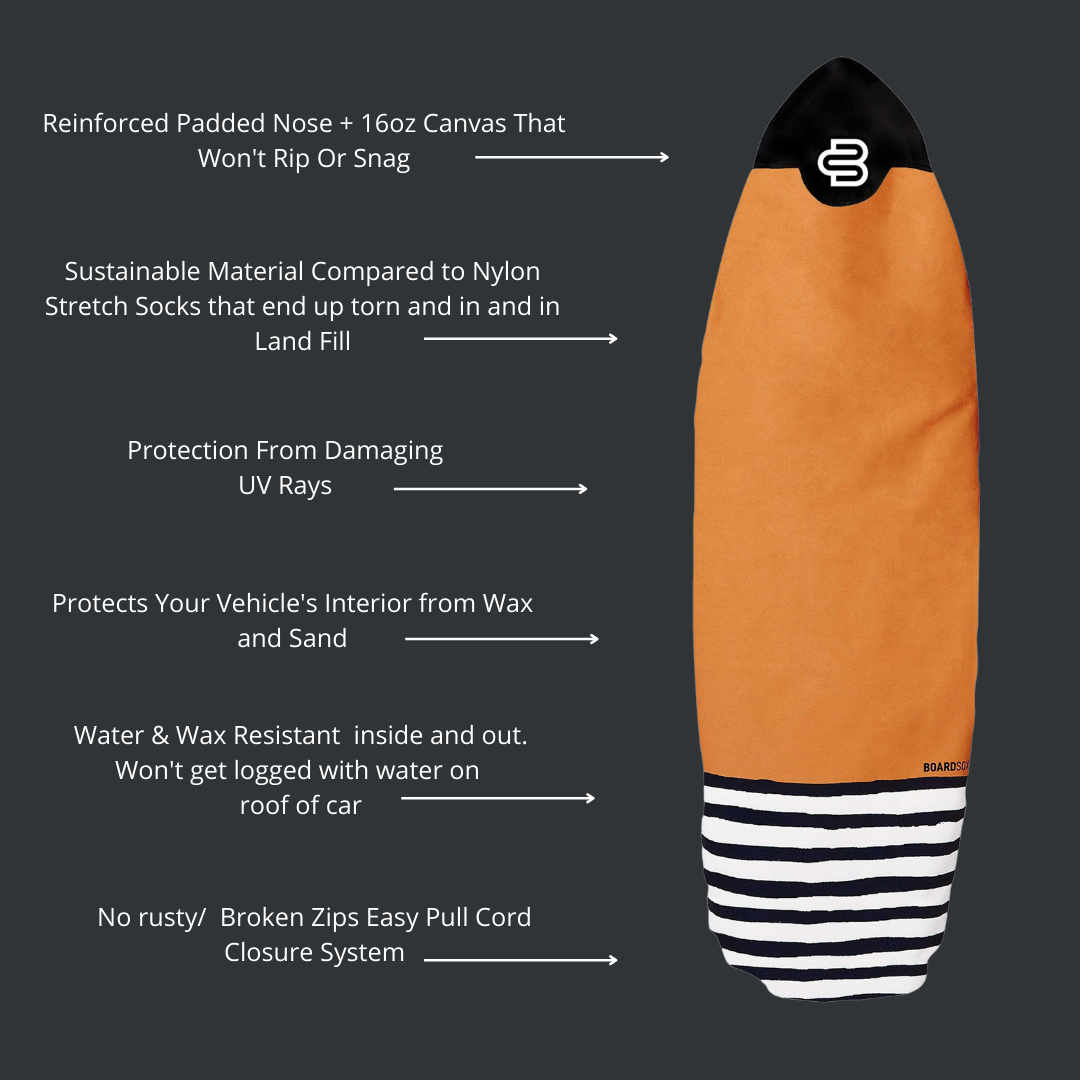 WHY CANVAS IS THE SUPERIOR AND SUSTAINABLE CHOICE FOR PROTECTING YOUR SURFBOARD?
Crafted from recylced plastic bottles, Boardsox Surf board covers offer exceptional protection against dings, scratches, and UV damage, ensuring your surfboard remains in pristine condition.

Boardsox covers are lightweight and easy to handle, making them convenient for everyday use. Their snug fit and stylish designs also make them a favorite among surfers who value both aesthetics and protection.

The combination of durability, protection, and style positions Boardsox Canvas Surfboard Covers as a top choice for surfers looking to safeguard their boards.
BOARDSOX ...
OUR STORY
Sarah and Dan founded Boardsox driven by their shared passion for surfing and a keen awareness of the environmental impact associated with surfing accessories.
learn more
Need help?
Frequently Asked Questions
To choose the right size, measure the length and width of your board. Our website provides a size chart for each type of cover, helping you select the perfect fit for your board. If you're unsure, our customer service team is always ready to assist you.
Yes, we offer customized length options for surfboard covers. If you have a customized question, feel free to reach out via chat for help
It depends on where you are. Orders processed here will take 5-10 business days to arrive. If you require a cover urgently. please order express. Overseas deliveries can take anywhere from 7-16 days. Delivery details will be provided in your confirmation email.
Yes, we ship all over the world. Shipping costs will apply, and will be added at checkout. We run discounts and promotions all year, so stay tuned for exclusive deals.
All orders are sewn and shipped from our warehouse in Torquay Vic Australia. You will receive tracking information once your order enters our postage system.r and concise answer to guide your customers.